As the first Conservation Biologist in the history of the U.S. Fish and Wildlife Service, Brian Czech brought to headquarters an unusual expertise: deep knowledge about the conflict between economic growth and biodiversity conservation.
Czech's insights were welcomed—until they threatened the win-win rhetoric that "there is no conflict between growing the economy and protecting the environment." Before long, Czech received his first gag order, prohibiting him from talking about the growth-conservation conundrum. Economic growth became the "800-pound gorilla" on the conservation policy table.
Gag-Ordered No More is a fascinating account of one man's efforts to speak truth to power, advance the principles of ecological economics, and lead the U.S. government to embrace limits to growth.
---
Ordering Options
Shipping is included in the price of the book for U.S. residents. Buyers from outside the USA will receive an ebook via email. (Note: Gag-Ordered is hot off the Steady State Press; ebooks not available until late November, 2023.)
Become a CASSE member and select Gag-Ordered as your membership gift!
Amazon (Hot off the Steady State Press; not yet available via Amazon.)
Mailed check to CASSE Headquarters (Memo: "GONM"):
CASSE
1100 N. Glebe Road — Suite 1010
Arlington, VA 22201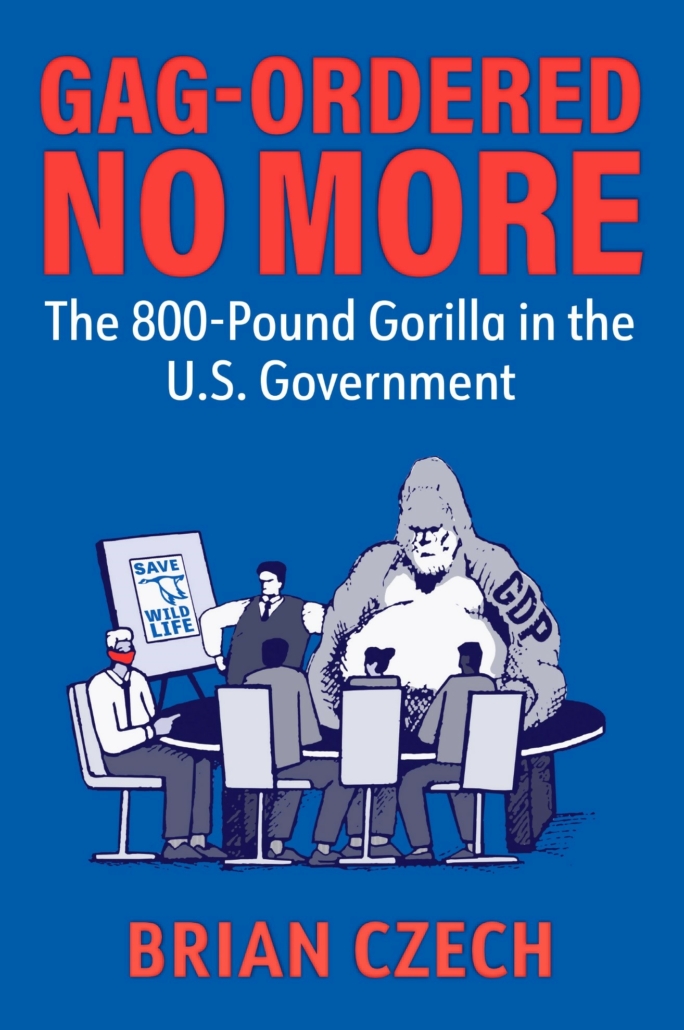 What Readers Are Saying
"Rather than being gagged by political appointees and hamstrung by bureaucrats, Brian Czech should have been treated as a hero for raising awareness of the conflict between economic growth and environmental protection. One thing is for sure: Czech's civil service legacy will be more durable than that of his suppressors." Doug La Follette, five-time Wisconsin Secretary of State
"Brian Czech is perhaps the world's most tireless and effective advocate for a steady state economy. This did not serve him well in his career with the U.S. Fish and Wildlife Service, where any talk of the conflict between growth and conservation was squashed. Written in a folksy, easy-to-read style that also manages to convey justified outrage over our continued destruction of the planet, Gag-Ordered No More offers insightful analysis of the existential ecological crises we face. We can only hope that the FWS follows Czech's advice for reform, but we can be certain that—gag-ordered no more–Czech will be an even more powerful voice for economic sanity and a steady state economy." Joshua Farley, Past President, International Society for Ecological Economics
"In a world where seemingly anyone can say anything, Brian Czech's experience of being systematically gagged by the U.S. government is stunning. With characteristic candor and spirit, Czech vividly describes the unthinkable lengths a federal agency went, over decades and through multiple administrations, to prevent him from speaking about the conflict between economic growth and ecological integrity. This was not just a case of speaking truth to power, but of speaking truth period. Shocking in its eye-popping details of the inner workings of a federal agency, the story of Czech's determined struggle to speak openly and honestly about the perils of relentless economic growth as a public policy goal is deeply informative, uplifting, and perhaps a dare for each of us to do the same."
Vera Cole, past president, Mid-Atlantic Renewable Energy Association