The Steady State Herald is CASSE's blog. As such, it is one of the leading outlets on the steady state economy as the sustainable alternative to growth. It is intended for an intelligent but general readership. We publish one article per week, usually on Wednesdays.
We encourage writers to read previous posts to see what we publish. We are especially interested in articles that focus on limits to growth (population growth and economic growth), ecological and steady-state economics, and degrowth. We also cover the conflict between economic growth and: 1) environmental protection, 2) economic sustainability, 3) national security, and 4) international stability. Articles on the politics, policies, and culture of growth are also welcome.
Please follow the guidelines when submitting an article. The guidelines are crucial for editorial efficiency and for "search engine optimization," a key factor in getting your article circulated.
Submit the article to caseyreiland@steadystate.org by Wednesday of the week preceding publication. Use the subject line "Last Name, First Name – Steady State Herald Submission."
Articles must be polished, penultimate drafts. Very little editing should be required. Articles requiring significant editing will be rejected.
Articles must comprise 1,000-2,000 words. Each article must include the following:

Two to four headings (which appear only after a few introductory paragraphs). Again, look at examples, please.
Two to three photos or images available under Creative Commons licenses. The typical way to procure such images is to use Google to: 1) search for your topic, then; 2) select Images; 3) select Tools; and 4) specify "Creative Commons licenses." Then right-click the image you want to use, copy it, paste it into the article, and paste the URL immediately below the image, along with your proposed caption.

Five to ten hyperlinks including outbound and inbound links (that means outside and inside the steadystate.org domain).
Three to five suggested keywords (and/or short key phrases).
A suggested meta-description of 20-30 words that contains at least one of the suggested keywords. (The meta-description will appear in Google search results.)
Literature citations if needed. We generally prefer the footnote approach to citation. See examples at the Steady State Herald.

Articles must be provided as Word documents. Please save the file as "Last name, First Initial – Title of Article." For example, "Smith, J – Limits to Growth."
Articles must be accompanied by a draft "email blast." Use the format demonstrated in Appendix 1. A finalized email blast will be circulated among Herald subscribers.
If you wish to publish your article elsewhere in the future, you must credit the Steady State Herald as the original publication in your byline. The standard credit should be, "Originally published on [date] by the Steady State Herald." The credit line should include a link to your article from the phrase "originally published." Alternatively, "Steady State Herald" may be linked to https://steadystate.org/category/steady-state-herald/.
Questions may be sent to Managing Editor Casey Reiland at caseyreiland@steadystate.org.
Appendix 1. Format for draft email blasts. The author should only submit the proposed subject line and the two descriptive paragraphs. In other words, the author submits the portions in red font below. Submit these by email text or as an attachment. Ensure that each paragraph comprises 30-40 words (that is, three lines per narrow paragraph, as below).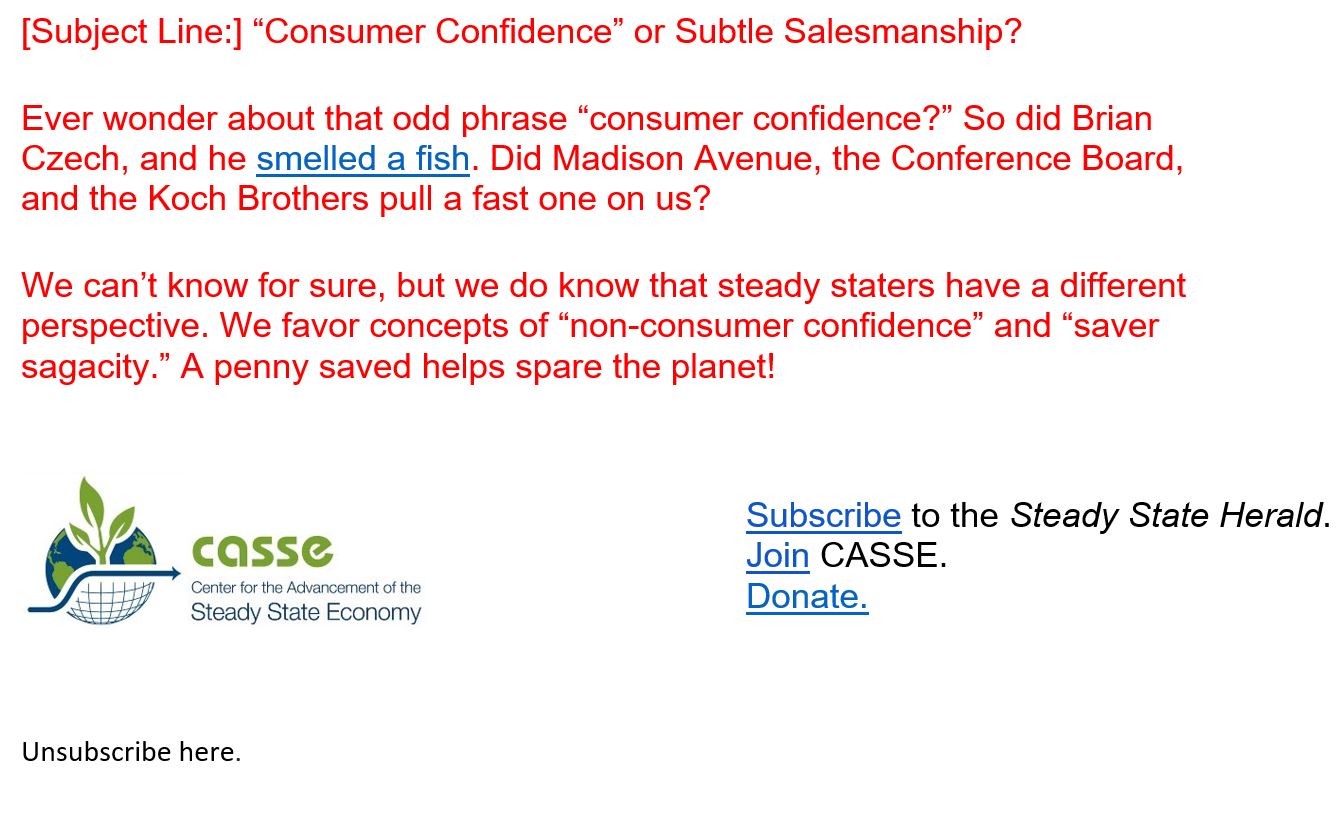 Example of an "email blast" sent to Steady State Herald subscribers.