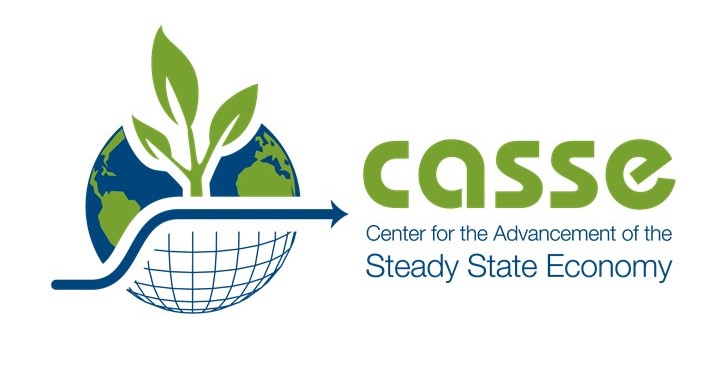 The Steady Stater             Vol. 12, Issue 2             September 30, 2021
---
Dear Steady Stater,
Greetings! Sorry we missed you this summer, but you've probably suspected some growth pains at CASSE. Growth pains in the nonprofit world come in the form of staff turnover and tattered deadlines, including newsletter deadlines.
For CASSE especially, recruiting staff is different than at Deloitte, Apple, or Pfizer. We're not tossing around six-figure salaries with paid vacations to the Bahamas. Nor do we exude the vibes of the U.S. State Department on a resume. It's tough for a tiny nonprofit to compete for the best and the brightest, and even tougher to retain them when plushy employers come calling.
So, the highlight of this Steady Stater is the rollout of our new staff covering the key positions of managing editor, communications specialist, and ecological economist. You'll meet them below, and take my word for it: This CASSE team has brains, talent, and—rarest of all—passion for advancing the steady state economy. Now that's a winning combination, and (touch wood) I believe the team is set for a solid run!
In this edition you'll also find the kick-off for Season 2 of "the other Steady Stater"—The Steady Stater podcast—along with award-winning CASSE chapter activities, organizational endorsements, and our new cohort of wonderful interns. In the "top articles" section, you'll encounter a couple of controversial propositions. I'd add that the "banning flights" proposition was swiftly followed up with the legislative goods.
Yes, we know the Forgoing Flights for America the Beautiful Act isn't feasible—yet. Consider CASSE a center-pulling, envelope-pushing think tank, getting its feet wet for plenty of steady statesmanship in statutory law.
Enjoy!

Brian Czech
Meet Our New Staff
---
Haley Mullins became CASSE's Managing Editor in July. Haley worked for several years as a middle school English teacher and as a freelance writer and editor. She received her B.A. of English with a creative writing concentration from Appalachian State University, and will receive an M.P.S. in Publishing from George Washington University in December. Haley manages CASSE's publications such as the Steady State Herald (blog), Steady State Press (book imprint), and even these quarterly newsletters!
James Lamont came on as CASSE's Communication Specialist in August. He received his B.A.S. in Sustainability Management from St. Petersburg College. He previously produced and hosted a weekly political segment on WMNF 88.5 FM, and independently produced the podcast Climate Breakdown. James has written extensively about economics, environmentalism, and culture for various outlets. He manages CASSE's public relations, social media, and press releases, and produces CASSE's podcast, The Steady Stater.
Elise Miner advanced from CASSE's Editorial Intern in 2020 to Internship Coordinator in 2021. She recruits, orients, and supervises CASSE's interns. Before joining CASSE, Elise interned for the International Rescue Committee and the National Endowment for the Humanities. She is completing her B.A. in English at Georgetown University and writing a senior thesis on Virginia Woolf and the Philosophy of Aesthetics.
Taylor Lange became CASSE's full-time Ecological Economist in August. He has a B.A. in Environmental Planning and an M.A. in Geography from Binghamton University. Taylor has an M.S. in Resource Economics and Policy from the University of Maine where he is a Ph.D. candidate in Ecology and Environmental Science, expecting conferral in December. His work has been published in the Journal of Evolutionary Economics and the Cooperative Business Journal. Taylor leads CASSE's GDP Correlates Project, a data-driven investigation on environmental and social impacts of GDP growth.
Top Articles of the Summer
---
The Steady State Herald hosted some controversial articles this summer. In case you missed them, here are the top three:
Signatory Spotlight
---
John Mirisch, 3-time mayor of Beverly Hills and former film studio executive, has joined the ranks of CASSE signatories. Keep an eye out for John's debut next Thursday in the Steady State Herald!
2021 Steady Statesman Award
Rob Harding (North Idaho Chapter), in collaboration with Hayden, Idaho city councilman Matthew Roetter, established a PAC called "Preserve the City of Hayden" for growth-fighting candidates.
2021 Excellence In Leadership Award
By recruiting dedicated volunteers, Adel Ramdani (European Union Chapter) is developing a European subsidiary of CASSE in the European Union, named CASSE EU.
Steady Stater Podcast — Season 2 Kickoff
---
After a months-long hiatus, The Steady Stater podcast is back in full swing with a brand new episode featuring the return of the podcast's first-ever guest, Laurel Hanscom. If you missed Season 1 or haven't heard our latest episode, make sure you are subscribed, and look up The Steady Stater wherever you get your podcasts!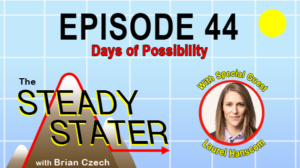 Quotable
---
"As a 78 year old white guy I have hacked my share of branches and finally understand your importance. CASSE appears to be the only game in town."
~Shawn Boles (Eugene, OR, USA)
"I have two children and I want them to have a decent world to live in."
~Dawn Lawrence (Bristol, England, UK)

In Memoriam: Richard Lamm (1935-2021)
This CASSE signatory was a three-term governor of Colorado, one-time presidential candidate, and tireless crusader for population stabilization. A prolific author, "Dick" was unafraid of controversy, and his successful effort to keep the 1976 Winter Olympics out of Colorado was one of the greatest rejections of pro-growth forces in American history. One of Lamm's final public engagements was as a guest on The Steady Stater.
[Image: CC BY-NA-SA 2.0, Credit: University of Denver]