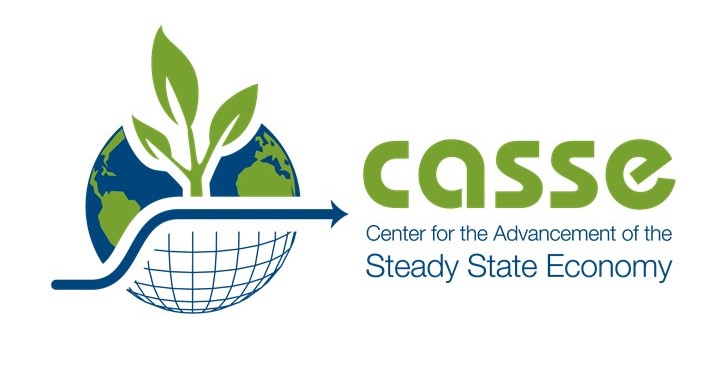 The Steady Stater             Vol. 13, Issue 2             April 28, 2022
---
Dear Friend,
Heraclitus supposedly proclaimed, "The only constant in life is change." If he was right, CASSE sure is alive! I'm excited to tell you about our latest wave of change.
For starters, we finally have our very own, full-time development manager! Dave Lavoie truly brings a wealth of nonprofit development experience to CASSE. Merely glancing at the list of organizations Dave has worked for will give you an idea of the quality of character he brings to the table. We look forward to a long and fruitful tenure as Dave helps develop CASSE's fundraising, membership, and foundation networking.
Next, we've hired a permanent, full-time internship coordinator, Trevor Reilly. (Until now we've coordinated internships with short-term, part-time help.) Trevor brings a BA in political science and an impressive set of experiences fit perfectly to the position. Furthermore, his pre-existing interest and studies in ecological economics will emanate to dozens of interns.
Finally—as of yesterday in fact—we found our long-awaited executive assistant. Natasha Palance has a BA in economics and an MA in international affairs. She has demonstrated proficiency and business development skills in the private and nonprofit sectors.
The academic backgrounds of Natasha and Trevor are a major bonus for CASSE. In addition to their primary duties, they'll contribute to policy analysis and writing projects.
Of course, not everything runs smoothly when change is afoot. For example, subscribers may have noticed the hiatus at The Steady Stater podcast. Please consider the silver lining; namely, the time availed for recruiting outstanding prospects at key positions. In the next newsletter, you can expect to hear about the completion (for 2022) of CASSE staffing with the selection of a policy specialist and a communications specialist.
Meanwhile, if you're not a CASSE member, don't you think now is the time to join? We're just getting into the exciting part of the journey, so jump on the train and let's enjoy the ride!
Brian Czech, Executive Director
Meet Our New Staff
Dave Lavoie joined CASSE as the development manager in April 2022, bringing over 20 years of experience in the nonprofit sector with him. He has managed multi-million-dollar portfolios for organizations such as the National Ballet of Canada, Oxfam, and Save the Children, among others. Through his work, he has acquired a unique perspective and a deep level of sector expertise in donor stewardship, program strategy, development, budgeting, implementation, and staff management.
Trevor Reilly joins CASSE in May 2022 as the full-time internship coordinator. He has a BA in political science and diplomacy from the University of Central Florida, as well as experience with international and nonprofit organizations such as Churches for Middle East Peace. Trevor will be charged with recruiting and managing CASSE's cohorts of interns.
Natasha Palance will join CASSE in May 2022 as the executive assistant. She has a bachelor's degree in economics from St. Mary's College of Maryland and an MA in international relations and affairs from The New School. Natasha has served as a research and development fellow at Child Advocacy and Women's Rights International, as a content writer, editor, and producer for Tzu Chi Foundation, and as a foreign policy advisor for the Canadian Youth Alliance for Climate Action.
Signatory Spotlight
Claire Simeone is a marine mammal veterinarian with over a decade of experience, and the founder and CEO of Sea Change Health. A true conservation leader, Claire works to improve the health and wellbeing of animals and humans alike.
CASSE is Hiring!
Want to join the CASSE team? Please click on the job titles below to review the desired qualifications, salary/benefits, and instructions for applying.
Interested in interning with CASSE? Log in to Handshake and search for Center for the Advancement of the Steady State Economy to find all internship openings.
Brisbane & Australian
Regional Communities Chapters
Craig Parker and Martin Tye commenced monthly meetings for those interested in learning more about steady-state economics. At their first meeting, the group discussed possible initiatives to advance the steady state economy. The two directors are also launching a podcast related to steady-state economics in order to build upon Martin's work on Twitter.
Southern Utah Chapter
Forrest Woolman is working with Utah Senate candidate Kael Weston (D) to educate voters on ecological economics and how a steady state economy can benefit Utahns. Additionally, Forrest has been assisting low-income families by offering affordable, alternative methods for insulating their homes prior to the summer heat. These methods involve reusing and recycling available materials.
New South Wales Chapter
The NSW chapter hosted an online workshop on Saturday, April 23 exploring perspectives on what the economy is and how it can serve the community's needs while respecting the natural world. Speakers included NSW chapter director Haydn Washington, Steven Hail, Philip Lawn, Michelle Maloney, Mary Graham, and Frank Stilwell. Check out the CASSE New South Wales website for more information on upcoming events.
Colorado River Chapter
Gary Wockner is CASSE's newest director for the Colorado River Chapter. Gary's work has earned him titles such as "river warrior," "eco-rockstar," and "one of Colorado's cornerstone environmental activists." As an award-winning author, you can expect to see Gary's work in the Steady State Herald in the coming weeks!
Top Episodes of the Spring
The Steady Stater is on hiatus due to overriding priorities. For now, catch up on anything you missed from Season 2, and make sure you're subscribed to hear about the next episode. Check out the top episodes of the season:
Quotable
"Growth has not solved our problems, and has only caused devastation to our planet. It's far past time for us to change our thinking. Thank you for leading the way."
~Diane Emerson (Vashon, WA, USA)
"We can no longer live on the credit of future generations. We must make this intelligent paradigm shift if we, the human species, will survive and thrive on our finite planet."
~Dennis Duckett (Nederland, CO, USA)