The Steady Stater             Vol. 11, Issue 4             December 1, 2020 
---
Dear friends,
Well, we've finally done it. We've gone mainstream. We've sent you our winter newsletter on Giving Tuesday. We used to send it before Thanksgiving, trying not to be (or seem) money-grubbing. But the fact is, CASSE's mission becomes more important by the day, and it's driven by donations.
So, on this Giving Tuesday, if you can swing it, please join CASSE or make a donation. A standard membership is only $25, and we'll send you a book as a membership gift.
Our lean CASSE staff merits your support. We've been publishing books, developing legislation, mentoring interns, blogging, podcasting, and networking furiously to advance the steady state economy. We've influenced political campaigns, journalists, and professional societies, helping them to understand, cover, and respond to limits to growth. There's simply no other organization in the world that presents—day after day—such a cogent alternative to unsustainable growth.
Thanksgiving is still fresh in mind, though, and at CASSE we're thankful for YOU! If you're on our mailing list, you're our friend. You're either a steady stater or open to the idea of the steady state economy. We need you—thank you for being there!
Enjoy the newsletter and keep in touch,
Brian Czech


Executive Director
---
Giving Thanks to CASSE Chapter Directors
Introducing Sierra Nevada Chapter Director, Cole Thompson
Roll out the welcome mat for CASSE's new Sierra Nevada Chapter Director, Cole Thompson!
Cole is a cyber security professional and a former US Army officer. He graduated from UC Berkeley with a BA in Political Science and an MA in Journalism. We look forward to the strides Cole will make advancing the steady state economy in the Golden State.
EU Chapter Director Adel Ramdani Scheduled to Speak to Revamp Rave Network
Adel has been the CASSE EU Chapter Director since July
2020. He was the Peace and Security Delegate at the 2020 G7 Youth Summit and strives to make EU policies more ecologically grounded. His lecture on December 13 will focus on "Youth and Collective Actions for a Sustainable Future.
---
Appreciating Peter Seidel on Giving Tuesday
The holidays are upon us, and it's time to find that perfect present for steady staters. That's not easy! The good news is we already have one wrapped and waiting for you…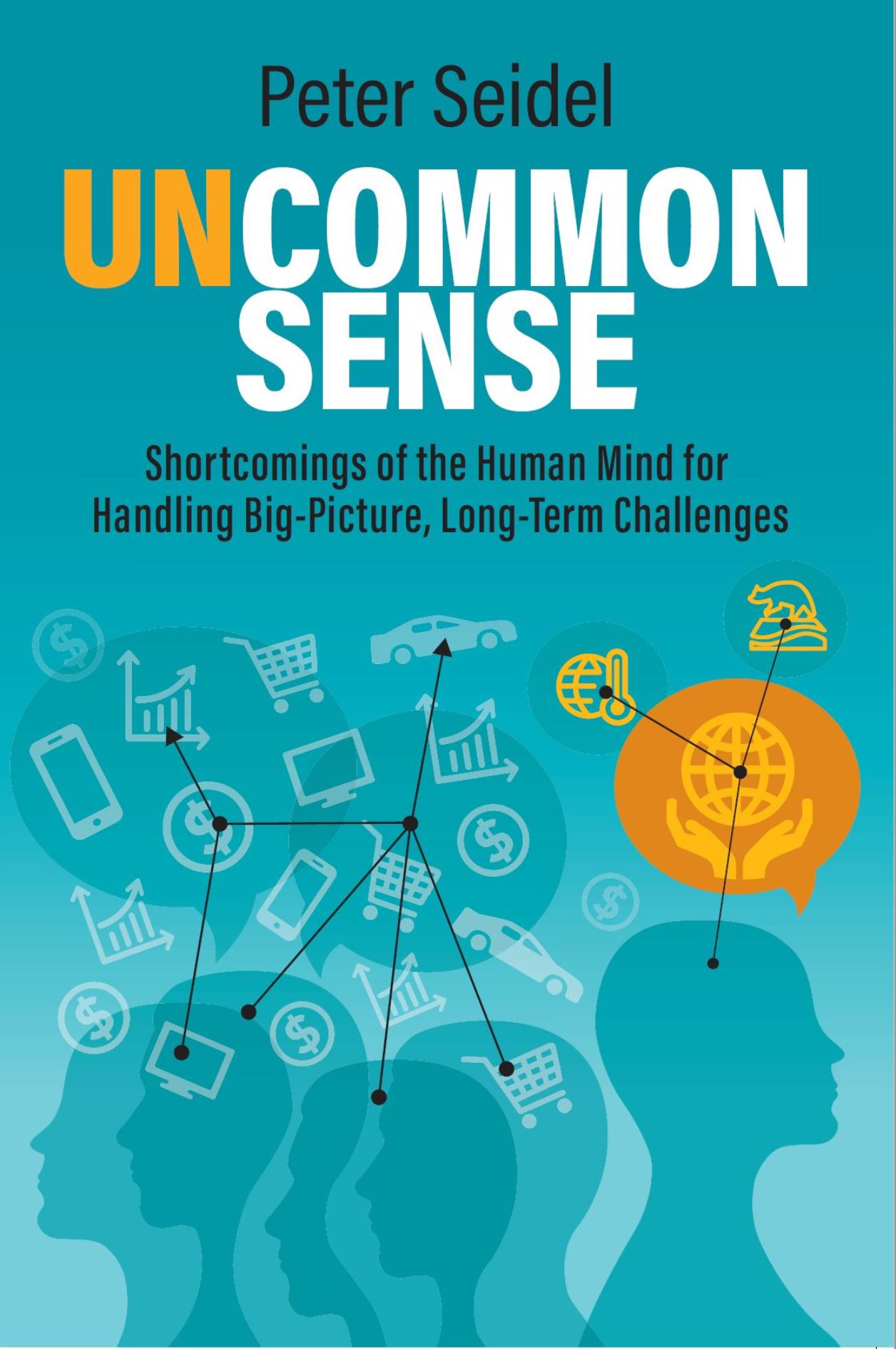 By Peter Seidel
Highly recommended by renowned thinkers, Uncommon Sense provides a new outlook on humans, society, and the environment. Not only does it challenge our limited, pro-growth perspective, it's a rare gift that advances the steady state economy.
We offer three options for ordering Uncommon Sense:
Donate $50 or more for Giving Tuesday and receive a free copy (preferred method for today)!
Spread some good tidings by supporting the Steady State Press! Your donation will also help fund the CASSE internship program, the Steady Stater Podcast, our policy work, and so much more!
---
Thanksgiving Steady Stater: So Good You'll Want Seconds
Thanksgiving has come and gone, but we are still gobbling up last week's episode of the Steady Stater! Brian talks with Herman Daly, the father of steady-state economics. The timing is no coincidence: Steady staters have Daly to thank—more than anyone else—for the vision of a steady state economy. After listening to this episode, you'll have another reason to be thankful, even amidst the daunting trends of the 21st century. To our weekly listeners, CASSE also sends a big thank-you for your support!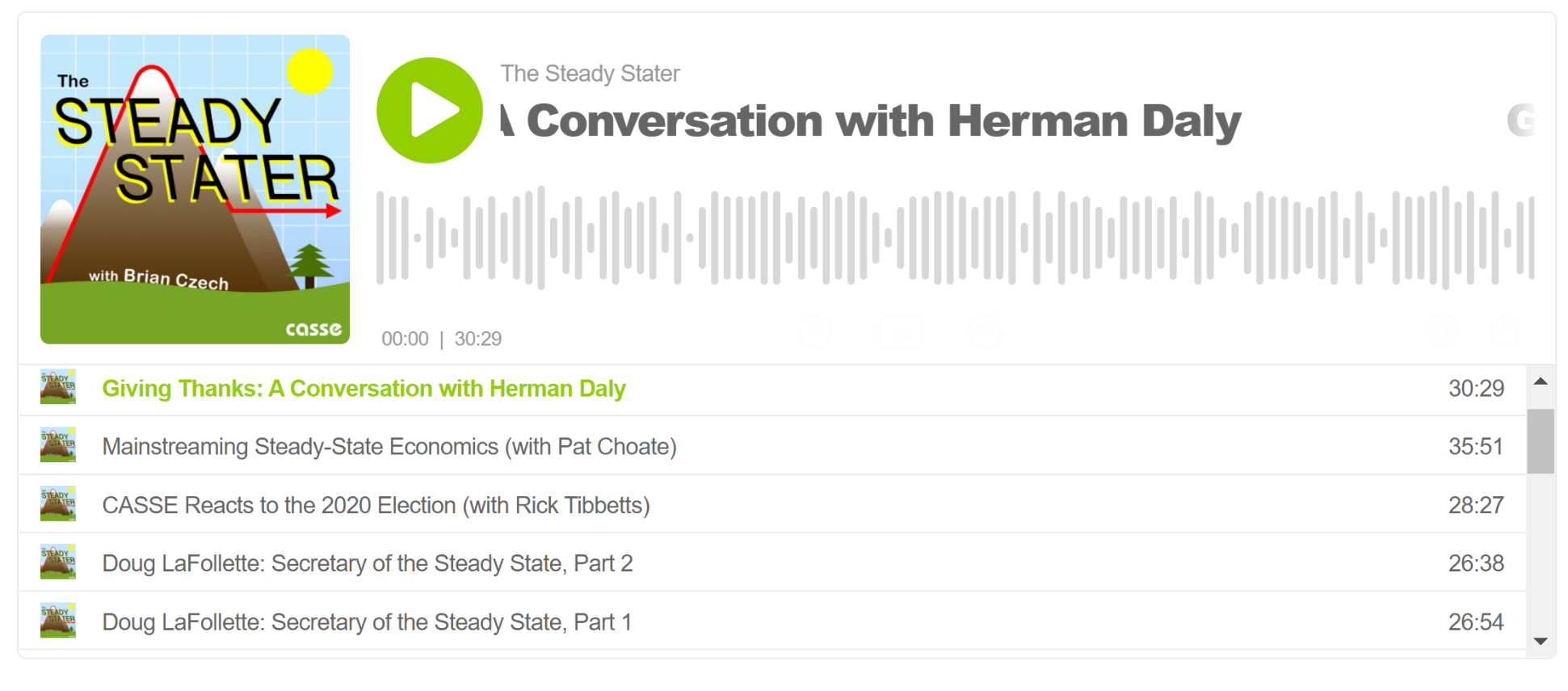 ---
Gratitude for Recent Endorsements
We are thankful for the endorsement of these big-thinking organizations. As the list of our organizational endorsements grows, so does the political viability of steady statesmanship.
---
Signatory Spotlight
Noel Rowe. Author of All the World's Primates; edited by Marc Myers; foreword by Jane Goodall.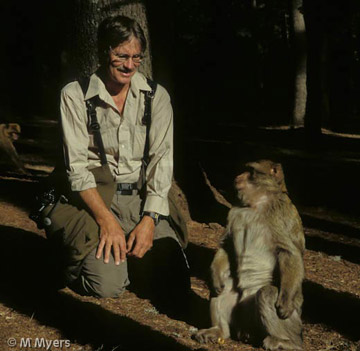 Vandana Shiva. Director of the Research Foundation on Science, Technology, and Ecology; author of Water Wars: Pollution, Profits, and Privatization and Biopiracy: The Plunder of Nature and Knowledge; recipient of the Right Livelihood Award.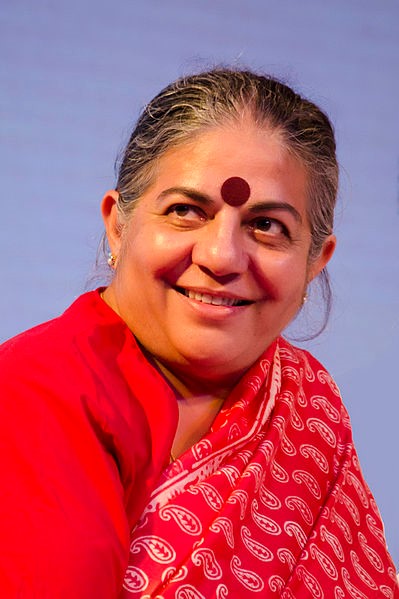 (We also wish Dr. Shiva a belated Happy Birthday! Her 68th important year on Earth began on November 5th.)
---
"This is great and addresses very important issues. I am very concerned about overpopulation of the human species, destruction of the natural world, and wildlife." —Carolyn King, Louisville, KY, USA
"All national leaders need to be well versed in ecology and physical laws in order to lead us with knowledge based on solid ground." —Colleen Kirby, Arlington, MA, USA