by Brian Czech
When the name "Putin" is uttered—from now until the end of human utterance—the first thing that should come to mind is hundreds of thousands (and counting) of dead and wounded. Putin has turned a verdant, peace-seeking country into a hell-scape of suffering, including starvation. Let's not overlook the Ukrainian casualties, now or ever.
Now, Putin is taking an even deeper stride into the annals of infamy by orchestrating one of the most despicable episodes of wanton waste in history: his attack on Ukrainian grain stocks and infrastructure. After yesterday's attacks at Izmail (just across the Danube River from Romania), over 200,000 tons of grain have been destroyed (including 60,000 tons in one night at Odesa). That's enough to feed nearly a million humans for a year! And that's not even counting other food stocks that have been hit, such as the 100 tons of peas destroyed at Odesa on July 21.
Nor does it count the millions of tons of agricultural harvest foregone as a result of Putin's widespread destruction of Ukraine's agricultural sector. As Cole Aronson reported for the New York Times, "In 2021, Ukraine produced over 30 million tons of wheat, 9 million tons of barley, and over 40 million tons of corn—high numbers that declined by a third in 2022 and are expected to go down further in 2023." Yes, the production numbers are plummeting as fast as Putin's reputation, and whatever is produced faces the grim Russian reaper at the transit ports.
Intentional destruction of such massive stocks of food is a "grave breach" of Article 50 of the Geneva Convention. It is a particularly egregious form of "extensive destruction…not justified by military necessity and carried out unlawfully and wantonly." Putin is essentially starving not only Ukrainians, but those at the margins of sustenance worldwide, far outweighing the 50 tons of grain he promised last week to six African countries in a cynical attempt to save face. Furthermore, those 50 tons are easily covered by grain stolen from Ukraine in 2022 alone.
But there is still another dot to connect, and it's a big one as well. It's a dot surely encompassing you. Practically everyone on Earth is a victim of Putin's invasion, because his wanton waste of grain is going to be the turbocharger of inflation.
Putin's Practicality was Greatly Overemphasized
At the Herald, we honed in on Ukranian grain from the moment Putin's troops assembled on Ukraine's borders. That was in late February of 2022. Doing so set us apart from the mainstream media, for whom grain was an afterthought. In fact, it seemingly set us apart from all the media, think tanks, and geopolitical pundits in the spring of 2022.[i]
Since then, several pulses of Ukrainian grain have gone to harvest. Much of it did make it to market in 2022, pursuant to the Black Sea deal brokered by the U.N. and Turkey (and suspended now by Putin). We'll soon consider what that has meant for the global food supply—and the global money supply.
But first, I must acknowledge a regret from 2022: namely my reference to Putin as "the Practical" in the aforementioned article. The label was not intended as a compliment. To the contrary, it was meant to juxtapose Putin with the so-called "greats" of lore, especially "Peter the Great," whom Putin emulates. By highlighting the practical nature of agricultural pursuits (the real focus of the article), I intended to portray Putin as down on the ground—down in the dirt as it were—not up on some glorious historical pedestal. It was, perhaps, too nuanced an attempt, especially to show up in a headline.
Furthermore, given Putin's murderous track record prior to 2022, I should have foreseen that even "practical" would be too generous a label for Putin's actions in Ukraine. Writing "Putin the Practical" was a bit like writing "Pol Pot the Thorough" or "Hitler the Patriotic." It was unintentionally euphemistic, and woefully so. I apologize for writing it.
Now, let's shift gears and consider the primacy of grain to global economic affairs. It will help to revisit the origins of money.
Grain and the Global Money Supply
The Israeli scholar Yuval Noah Harari wrote, "We did not domesticate wheat; wheat domesticated us." It's a bit of an exaggeration, because in reality Homo sapiens and the genus Triticum "domesticated" each other for over two millennia during the Neolithic period. People learned to farm while the productivity of wheat (primarily emmer, einkorn and spelt at the time) allowed them to settle onto the land. Domestication of wheat and humans went hand-in-hand.
Still, Harari's shibboleth resonates strongly with subscribers to the trophic theory of money. We might even add, "We did not create money; wheat created money," although it would be more accurate to ascribe the origins of money some 5,000 years ago to barley, not wheat. Barley itself was used as a means of exchange, a store of value, and a unit of account. This practice became so widespread and precise that, when the shekel was finally born circa 2400 BC, it's weight in silver was balanced to 160 grains of barley.
During the thousands of years it took for Mesopotamian society to transition from commodity money (barley) to silver coinage (shekels), these two forms of money co-existed in a "bi-monetary" system. Yet another first—the first accounting system—arose to document the exchanges of barley and shekels for each other and for other goods and services in the developing economy. Such accounting was recorded on clay tablets in the Sumerian writing called "cuneiform."
So, if you've read about the famous "cuneiform tablets," you were probably reading about some of the earliest accounting of the earliest monetary exchanges, recorded in one of the earliest forms of writing, all made possible by the earliest, long-lasting and reliable agricultural surplus that freed the hands for the earliest, societal division of labor. That's a long sentence made more digestible with a simple diagram: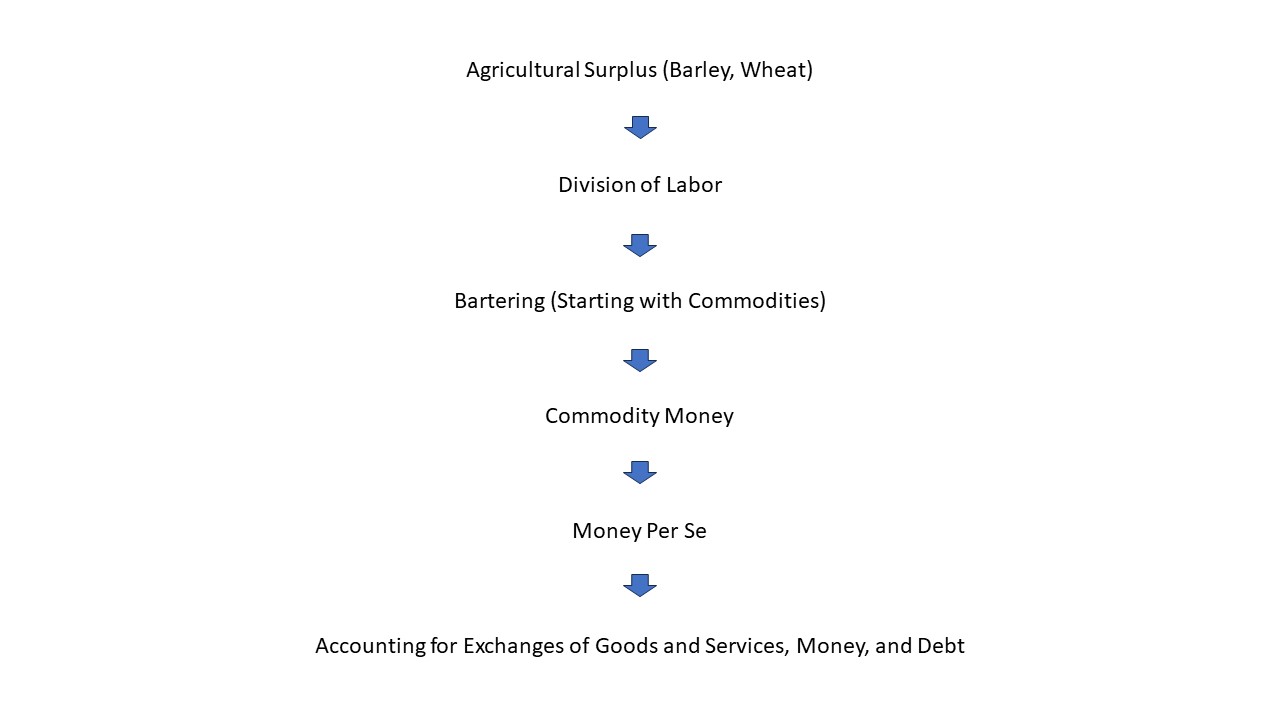 The fundamentals haven't changed. We have a real economy based on agricultural surplus, and a money supply "authorized" by the amount of agriculture surplus. A lot of surplus warrants a lot of money; little surplus warrants little money.
In other words, the "real" money supply accurately reflects conditions in the real economy. If it doesn't, we're in trouble. We're in the choppy seas of inflation or the stagnant swamp of deflation.
Primer on Inflation
Anything that disrupts the ratio of the money supply to real economic production (which starts at the base with agricultural surplus) is, by definition, causing inflation or deflation. The focus here is on inflation.
The easiest way to think of inflation is as "too much money chasing too few goods." In other words, the ratio of the money supply to real economic production (the production of goods and services) has increased. We are talking here of the nominal money supply, not the real supply. Remember, the real supply, by definition, mirrors the level of production in the real economy. If the nominal supply is greater than the real supply, it's inflated.
This terminology can be confusing, because what "really" exists in the calculations of the Federal Reserve and others who monitor money supplies (including M0, M1, M2 and M3) is nominal money. The nominal money supply has a certain reality, alright, but it's a reality tied up with and contorted by interest rates, various levels of liquidity among assets, and the forces of inflation and deflation. That's all the more reason to specify the term "nominal" when talking of money supply figures as reported by the Fed, IMF, etc.
The two main kinds of inflation are "demand-pull" and "cost-push." Demand-pull inflation happens when demand increases more rapidly than production. "Demand" doesn't necessarily refer to anything psychological, like the propensity to consume. Remember, demand is measured by economists in monetary terms. So, for example, if the Federal Reserve increases the nominal money supply in the absence of real economic growth, it causes demand-pull inflation.
Cost-push inflation, on the other hand, comes from the real supply side. The closer to the foundation of the economy, the more important the supplies. For example, if there is a timber shortage, lumber prices increase, along with the prices of related raw materials or heavy manufactures that are called upon to fill in the gaps. These higher prices reverberate into the lighter manufacturing sectors as well.
Putin and Inflation
Recalling the trophic theory of money, the very foundation of the economy is agriculture. Without an agricultural surplus, there is no division of labor and therefore no exchanging of goods and services. Money is worthless. When its value has shriveled to nothing, the supply of it is inflated unto infinity.
This side of Armageddon, it's not all or nothing, of course. If the agricultural surplus simply declines without disappearing entirely, there is still some division of labor and some exchanging of goods and services. Money isn't worthless, but its value has declined. The supply of it is inflated to some degree.
And that is precisely what Putin is causing. By laying waste to a significant proportion of the global wheat harvest, he is lessening global capacity for division of labor, exchanging of goods and services, and real money supply. He's causing cost-push inflation, surely more than any one person of the 21st century to this point. In a sense, he is stealing from all of us.
It was a mistake to call Putin "the Practical." It would be a bigger mistake to overlook the contribution of Ukraine grain to the wellbeing of humankind throughout the world. Meanwhile, Putin is murdering Ukrainians, starving the poor in developing countries, and causing financial distress among the masses of middle-class citizens. He should go down in history as "Putin the Heinous."
---
[i] Commenting on an article at the Steady State Herald, Natylie Baldwin (a writer on Russian culture and, more recently, political affairs) even opined, "the idea that Russia wants to take over Ukraine… for some extra agricultural land is ludicrous."
---
Brian Czech is CASSE's Executive Director.

https://steadystate.org/wp-content/uploads/Running-Man.jpg
1229
975
Gary Gardner
/wp-content/uploads/logo.svg
Gary Gardner
2023-08-03 11:04:30
2023-08-04 11:14:24
Putin the Heinous Strikes at Global Wellbeing