Enough Is Enough
Building a Sustainable Economy in a World of Finite Resources
The new book by Rob Dietz and Dan O'Neill
It's time for a new kind of economy

We're overusing the earth's finite resources, and yet excessive consumption is failing to improve our lives. In Enough Is Enough, Rob Dietz and Dan O'Neill lay out a visionary but realistic alternative to the perpetual pursuit of economic growth—an economy where the goal is enough, not more.

They explore specific strategies to conserve natural resources, stabilize population, reduce inequality, fix the financial system, create jobs, and more—all with the aim of maximizing long-term well-being instead of short-term profits. Filled with fresh ideas and surprising optimism, Enough Is Enough is the primer for achieving genuine prosperity and a hopeful future for all.

"A lucid, informed, and highly constructive book."
—Noam Chomsky
More Information
Buy the book (the first $5,000 in royalties go to support the work of CASSE).
Read endorsements from leading sustainability thinkers.
Read the foreword, preface, and first chapter.
View videos and photos related to the book.
View material from the conference that inspired the book.
About the authors of the book.
Media appearances for Enough Is Enough.
Videos
A short documentary film of Enough Is Enough is in the works! View the trailer below:
If you are in the UK, come to the film launch at the University of Leeds on January 29th, 2014!
News
The USA Today published Rob Dietz's article about the needed economic overhaul.
Rob Dietz and Dan O'Neill discuss three important changes for business in The Guardian.
Rob Dietz delivered the keynote address at the conference of the International Society of Sustainability Professionals.  Claire Bronson of VizSpark drew this image map to capture the ideas in the address: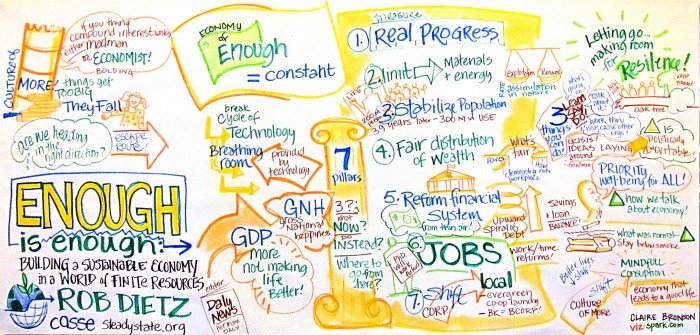 Dan O'Neill discusses the economics of enough in The Guardian.
Dan O'Neill debates Daniel Ben-Ami on whether it is time to ditch the pursuit of economic growth in New Internationalist magazine.
Rob Dietz talks about the "economy of enough" on the Ecotopia radio show.  Click here for additional radio interviews.
Dan O'Neill is interviewed by Drew Nelles in the Globe and Mail (Canada's largest national newspaper).
Doug Hendren has written a song that was inspired by Enough Is Enough.
View other news about the book.
Contact the Authors
To arrange interviews or speaking engagements related to the book, email Rob Dietz or Dan O'Neill.