by Rob Dietz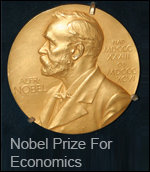 Few people have read the dense volumes published by the economist Milton Mountebank, but his work has affected you, me and every single person on the planet. Dr. Mountebank has revolutionized economic thought, and now he has been recognized for his singular efforts. Yesterday at a gala reception in Stockholm, Sweden, the chairman of Sveriges Riksbank, Peter Norborg, presented Dr. Mountebank with the Nobel Prize in Economics for his lifetime of work on infinite planet theory.
In his presentation of the award, Mr. Norborg stated, "Dr. Mountebank has demonstrated imagination and inventiveness beyond what the rational mind can comprehend." Indeed, it is because of his theories that we all do what we do economically. Nations strive for continuous GDP growth and endless expansion of consumption thanks to infinite planet theory. Mr. Norborg went on to say, "All of our banks, including Sveriges Riksbank, owe him a huge debt. We finance  economic expansion. Our actions and decisions would be morally suspect if we lived on a finite planet."
In a light-hearted moment during the presentation, Mr. Norborg asserted that Dr. Mountebank had provided an even greater service to humanity by reducing stress on individuals. "Best of all," he said, "is that we can extract, consume and digest resources guilt-free. Planetary constraints have been conquered. They have gone the way of the dodo, the Roman Empire and the world's major fisheries."
Although Dr. Mountebank's books have failed to reach mainstream audiences, his work has been highly influential among elite political and corporate leaders. Ronald Reagan is a prominent example. President Reagan once famously said, "There are no limits to growth and human progress when men and women are free to follow their dreams." That's a close paraphrasing of Dr. Mountebank's conclusion to his magnum opus, Infinity and Beyond: The Magical Triumph of Economics over Physics. Phillip van Uppington, former vice president at Lehman Brothers, asserts that Dr. Mountebank was a huge influence on his firm. "We used to quote him all the time. One of the highlights of my career was the symposium I arranged a few years back with Mountebank and Milton Friedman. We called it 'Double Milton Day.'  It really opened our minds to the possibilities of innovative finance. Once we implemented the double Milton doctrines, we made more cash than most small nations."
In his acceptance speech, Dr. Mountebank told the story of how he developed infinite planet theory. "Equations, equations, equations," he said, "I would see them dancing across my eyelids as I laid down to sleep.  In the morning I would wake up and write them out. I did this for three straight years until I finally put it all together." The centerpiece of Mountebank's mathematical demonstration of the feasibility of infinite growth is his conjury equation, a recondite multivariate differential expression that, by common agreement, is understood by fewer than four economists in the world. "It's why I'm standing on this stage today," Mountebank said. "Unfortunately the equation is too long to fit on the screen behind me, but it's the key to infinite economic growth. Fortunately, though, you don't have to be an economist or a statistician to use it as a guide for your daily actions." Dr. Mountebank continued by holding up a globe in his hand and stating, "We all recognize that the earth is a sphere, and from basic geometry, we all understand that a sphere has no beginning and no end. If you set out in one direction on the surface of a sphere, there is no stopping point—it's infinite." He spun the globe and walked his fingers around it to prove his point. "Q.E.D.  No end.  And that means it can be infinitely exploited for economic gains."
Infinite planet theory has gained almost unanimous acceptance in economic circles, but there have been some vocal critics. On the day of the award ceremony, a small band of protestors formed a picket line outside Sveriges Riksbank. One protestor was carrying a sign that said "Steady State." When asked why she was protesting, she said, "Mountebank? You can't be serious. They should give the Nobel to Herman Daly." Dr. Daly is known for his work on the limits to growth and the steady state economy, concepts which fly in the face of infinite planet theory. The Club of Rome provided the original critique of the theory when it published its bestselling book, The Limits to Growth. In his writings, however, Dr. Mountebank has dismissed the notion of limits. One of the passages in Infinity and Beyond says:
The end of cheap oil, species extinctions, climate change, deforestation, resource depletion, crippling poverty, loss of ecosystem services, soil and aquifer degradation—these are trifling problems, so long as we continue to grow the economy toward its ultimate size: infinity and beyond. Under no circumstances should we allow creeping thoughts about a finite planet or constraints handed down by universal physical laws to get in the way of building a bigger economy. And certainly we should shut our ears to the dreary doomsayers who continue to rain their inane facts upon our parade of growth. Growth, alone, is the moral and political ideal.
Dr. Mountebank ended his acceptance speech on a personal note, observing how infinite planet theory had soothed the fears of his young grandchildren. He said, "They told me they were scared about what was happening to the environment. I patted their little heads and told them not to worry.  After all, you can't harm nature on an infinite planet. By definition, there's always more."
Dr. Mountebank is the eighth Nobel laureate in economics from Fantasia University.
/wp-content/uploads/logo.svg
0
0
Brian Czech
/wp-content/uploads/logo.svg
Brian Czech
2011-05-23 20:37:46
2018-05-09 22:46:11
Mountebank Wins Nobel for Infinite Planet Theory